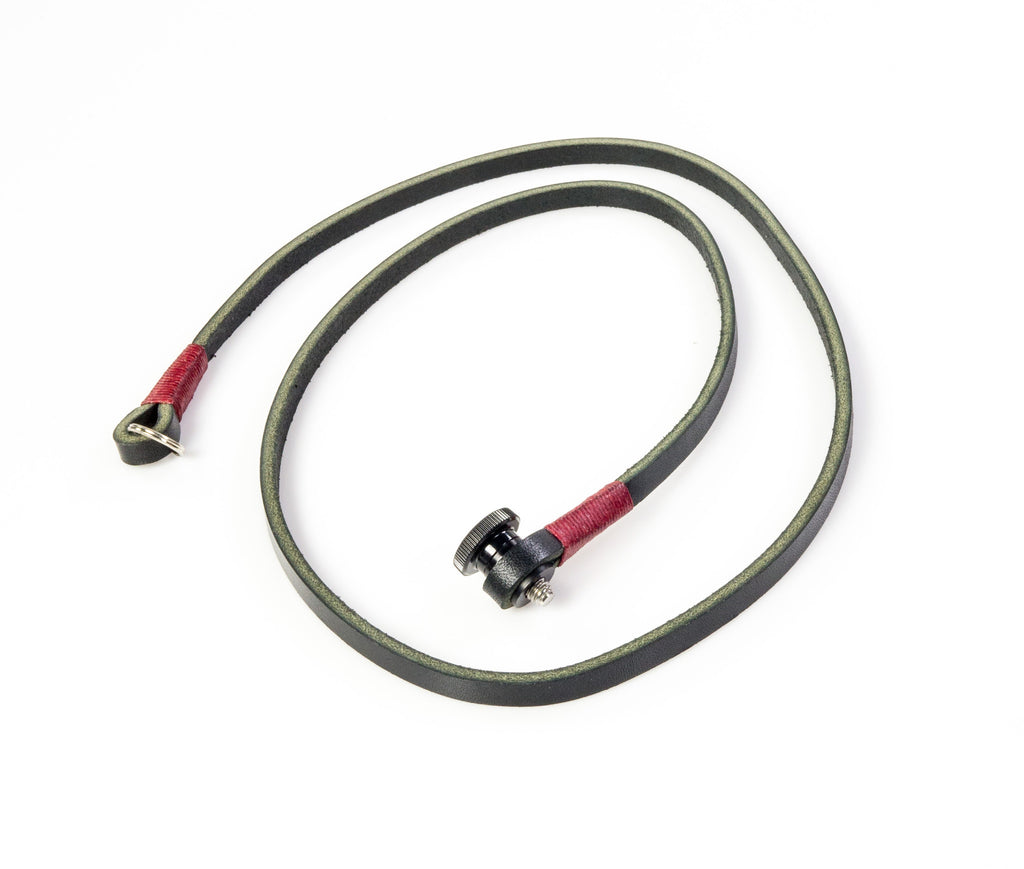 ---
I only know of two manufacturers that provided for hanging the camera vertically — Leica and Voigtlander. The Leica M5 and CL had an extra lug on the rewind side. The Voigtlander trigger winder for the Bessa series has two lugs for hanging the camera vertically on the film advance side. My vertical neck strap attaches to one lug, with an included 1/2" split ring, and the tripod mount, with my tripod attachment, which lets the camera hang vertically from either side.
Each strap comes with a split ring on one end and a tripod mount on the other. They are $35 without accessories. 
 Length 
You can choose any length that works best for you. 40" (101 cm) is our most popular length for a neck strap, but the perfect length can vary from person to person. It depends on the length of your torso and how you like to carry your camera. For a more custom length, I'd recommend simulating the strap with a string then measuring that.
 If you add a Quick disconnect kit or attach strings we will automatically calculate the additional length so your camera still hangs at the desired length. 
 

Screw type 
The

Low profile screw

is made from stainless steel and can be tightened with a coin. 

The

Black thumb screw is larger and easily tightened with your fingers. It is made with a Shear-Loc® knob (also made in the USA) assembled on a stainless steel socket head cap screw.
 Colors 
Leather color: Made of Latigo belt leather, my hand made camera straps are tough, flexible, and pliable. They have a natural luster that only improves with age and softens with use. Keep in mind that there are always variations in leather. The color and texture can vary from hide to hide. Please allow for this.
Wrapping cord color: You can choose between 16 different wrap colors. Be bold or keep it simple.
For more information check out the Colors page.
Additional Accessories
 

Neck pad 
My neck straps will support pretty heavy loads but sometimes our necks won't. The straps work fine for lighter cameras, but for those heavier cameras, I always use a neck pad. These pads are 1" (25mm) wide and 8 3/4" (222mm) long for good support and we beveled the edges for better comfort. They are made from the same leather as the straps and are available in the same colors. If you want a neck pad it must be ordered with the strap. They unfortunately can't be added after the strap has been assembled. Neck pads are an additional US $15.
 Strap Bumpers 
Note: Only one strap bumper is needed for the side that is connected with a split-ring.
O-ring strap bumpers are made of rubber and are thicker than the other bumpers. It's also recommended to use them if you are attaching your strap to a rod. This will keep the split ring securely in place. They're also easily added after the strap has been assembled. $1 each. 
Octagonal strap bumpers are a great leather option and can be added to your camera at any time. Although we make them thinner, the same leather is used as the straps and they're available in the same colors. $4 each.
Integral Strap Bumpers are assembled in the loop of the strap. They can then be placed between the lug-mount and the split ring for protection. We thin the same leather that's used for the straps so the same colors are available. Because the strap is assembled together with the Integral strap bumper they can not be added after the strap has been assembled.  $4 each.
Quick Disconnect kit  
The Quick disconnect kit will allow you to switch between straps easily. It includes a spring clip, an o-ring strap bumper, and a split ring. The kit also adds 1 1/4" to the length of the wrist strap. 
| | |
| --- | --- |
|  The titanium spring clip is 6 axis machine cut from titanium 6AL-4V.  | $17 for the kit shown.  |
 
 

Tripod reducer bushing 
The thumb screw on our straps have a 1/4-20 thread but some cameras have a 3/8 threaded hole. I can provide a tripod reducer bushing for $5.00 USD. The tripod reducer bushing just screws into the 3/8 tripod mount and then you can screw in the thumb screw in the wrist strap into the tripod reducer bushing. It also allows you to use a standard tripod.