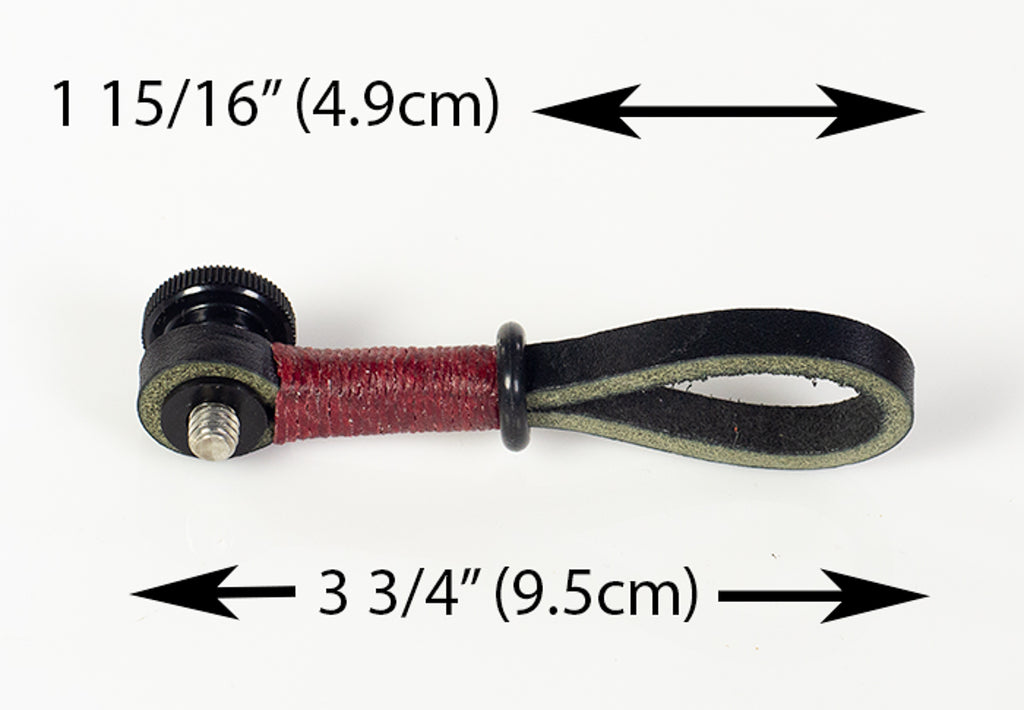 Finger strap - tripod-mount
---
Colors:
Black leather with Black wrap. 
Wrist straps are a compact solution to carry straps. However, you may need something even smaller. Now we have the finger strap. You can carry your camera using just a finger or thumb.
The minimal design allows you to quickly and securely pick up, carry, and then put down your camera.
I've included a black rubber o-ring to each strap so you can reduce the strap opening for a more snug fit.
Colors:
Black leather & black wrap
Black leather & dark red wrap
 Size 
Colors:
Black leather & Dark red wrap. 
The finger strap comes in one size. The total length is 3 3/4" (9.5cm) and the length of the loop is 1 15/16" (4.9cm).
 Screw type 
Colors:
Black leather & Dark red wrap. 
The 
Black thumb screw
 on the left is larger and easily tightened with your fingers. It is made with a Shear-Loc® knob (also made in the USA) assembled on a stainless steel socket head cap screw.
The Low profile screw on the right is made from stainless steel and can be tightened with a coin. 
Colors:
Burgundy leather & Blue wrap.
Dark brown leather & Gray wrap.
Light brown leather & Light brown wrap.
Black leather & Light red wrap. 
 Colors 
Leather color: Made of Latigo belt leather, my handmade camera straps are tough, flexible, and pliable. They have a natural luster that only improves with age and softens with use. Keep in mind that there are always variations in leather. The color and texture can vary from hide to hide. Please allow for this.
Wrapping cord color: You can choose between 16 different wrap colors. 
Be bold or keep it simple. For more information check out the Colors page.
 Tripod reducer bushing 
The screws on our straps have a standard 1/4-20 thread, but some cameras have a 3/8-16 threaded hole. I can provide a tripod reducer bushing for $5. It fits into the 3/8 tripod-mount and converts it into the standard 1/4-20 thread size. It also allows you to use a standard tripod.